Counterfeit medicine is a copy of medicine, which may be contaminated or contain a false active ingredient or no active ingredient. Counterfeit medicine is a scourge, especially in developing countries, leading in some cases to a significant morbidity and mortality rate.
According to the World Health Organization (WHO), counterfeit medicines are part of the broader phenomenon of substandard pharmaceuticals – medicines manufactured below established standards of quality and therefore dangerous to patients' health or ineffective for the treatment of diseases. Counterfeit medicines represent an enormous public health challenge. As described in many WHO reports, medicines in the form of tablets or capsules that look right may not contain the correct ingredients and, in the worst case scenario, may be filled with highly toxic substances.
In some countries, this is a rare occurrence whereas in others this is an everyday reality. The US based Centre for Medicines in the Public Interest indicates that counterfeit drug sales reached US$ 75 billion globally in 2010, an increase of more than 90% from 2005.
Although precise and detailed data on counterfeit medicines is difficult to obtain, estimates range from around 1% of sales in developed countries to over 10% in developing or transitional countries, depending on the geographical area.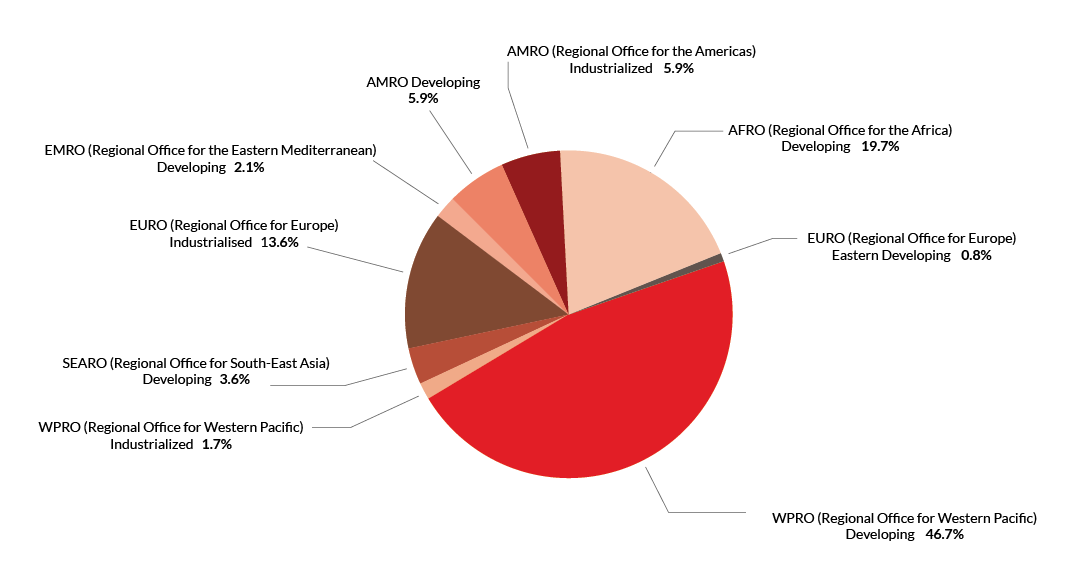 In African countries (where 80% of drug requirements are imported, thus making it harder to ensure the legitimacy of the drugs), the counterfeiting drug problem, together with the lack of capacity to analyze the quality of imported drugs, has caused catastrophic results.
For example, in 1995, over 50,000 people were inoculated with fake meningitis vaccines in Nigeria, possibly resulting in the deaths of 2,500 children. In 1998, it was reported that 400 children in Haiti, Nigeria, and Bangladesh died after ingesting counterfeit paracetamol (acetaminophen) syrup that was made using diethylene glycol.
According to the recent information provided by the WHO, counterfeits and their magnitudes can be divided into six categories:
| | |
| --- | --- |
| Products without active ingredients | 32,1% |
| Products with incorrect quantities of active ingredients | 20,2% |
| Products with wrong ingredients | 21,4% |
| Products with high levels of impurities and contaminants | 8,5% |
| Products with correct quantities of active ingredients but with fake packaging | 15,6% |
| Copies of an original product | 1% |

(ref: http://www.who.int/medicines/services/counterfeit/overview/en/, consulted 2/8/2012)
Consequently, proper Drug Quality Control using a dedicated analytical chemistry technique can reveal more than 80% of the above-mentioned cases.
Drug Quality Control refers to the observation techniques and activities used to fulfill requirements for quality. Quality evaluation studies are particularly important in the fight against drug counterfeiting to provide information on the drug content and to identify the cause (if any) of the poor quality. The chemical analysis of drugs suspected to be counterfeit is a crucial step in a series of measures that should accompany the overall action against this criminal trade.
In recent years, counterfeiting has increasingly shifted from the falsification of raw drug ingredients, most common in the past, to "finished" pharmaceuticals (the final product taken by the patient). In response to the improved complexity of the drug manufacturing and the distribution system that appear to solve the drug falsification problem, it has become insufficient to control active principles on the production site, drug products must also be controlled in the field, just before their intake by the patient.
As previously mentioned, the best way to insure quality control is to choose the appropriate analytical technique considering the purpose of the analysis, the budget (for the initial and recurrent costs of the equipment). Furthermore, it is important to train operators or technicians to fulfill the parameters that should be reached according to the regular guidelines of analytical methods, such as those recommended by the International Conference of Harmonization (ICH, Q2R1).