Our mission took place at the Laboratoire National de la Santé in Bamako from Monday 16 to Wednesday 25 November 2009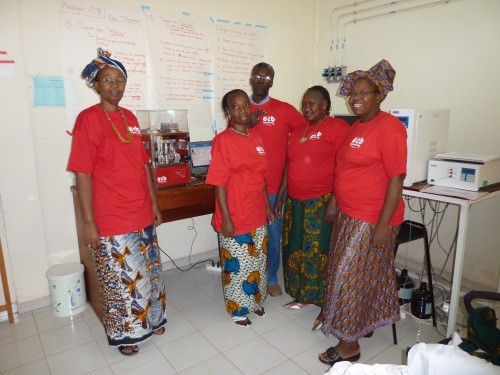 About this mission
This project originates from a collaboration regarding drug quality control between the  "Faculté de médecine, de pharmacie et d'odonto-stomatologie de l'Université de Bamako (FMPOS), Mali, Laboratoire national de la Santé, BP E4559 Darsalam Bamako, MALI" and "les Hôpitaux Universitaires de Genève (HUG)".
During his teaching assignment at the FMPOS in Mali, Professor Pascal Bonnabry, chief pharmacist at the HUG, met Professor Gaoussou Kanoute, the leader D.E.R of the pharmaceutical sciences and general director of the "Laboratoire National de la santé (LNS) du Mali". It was decided, within the existing framework of collaboration between their institutions to implement the use of capillary electrophoresis for the quality control of the main drugs used to treat some important diseases in Mali.
The objective was the training of the laboratory staff in testing, using capillary electrophoresis (CE) analytical methodologies.
---
Participants
Principal Correspondent
Prof Pascal Bonnabry, HUG, Switzerland
People in charge
Prof. KOUMARE Benoît Yaranga, Maitre de Conférences – Directeur Général du Laboratoire National de la Santé, Faculté de Médecine, de Pharmacie et d'Odonto-Stomatologie, Université de Bamako, BP E 4559 – Bamako, MALI
BP E 4559 – Bamako, MALI
Djibril Tamba KONATE, Responsable Service Contrôle Qualité des Médicaments, Laboratoire National de la Santé, Bamako, Mali
---
Local situation
Mali and "Laboratoire National de la Santé (LNS) du Mali"
Mali is a large Sahelian country of 11 million people.
It is one of the poorest countries in the world, with a GDP of 250 $ per inhabitant and an expectation of life at birth of 44.8 years in 2002.
Counterfeit medicines are a major problem recognized in Mali. Many drugs are imported from India and China, where the production conditions do not always fulfil the highest GMP international pharmaceutical standards.
Moreover, extreme climatic conditions also contribute to accelerated degradation of drugs. This situation puts the health and even the lives of many people at stake.
To ensure the safety of drug use in Mali, the LNS has the mission to control batches of drugs imported into the country.
For that purpose, samples are taken at the arrival of drugs and are analyzed in the quality control laboratory of the LNS. Drugs which meet the conformity requirements are then released for use.
The goals of the project and of the mission undertaken at the LNS in Bamako were to provide an ECB device; to train the staff on the spot ; to transfer the know-how by applying analytical methods having been developed and validated in Switzerland and suited to drugs. The theoretical and practical training lasted five days.
A group of 5 to 6 people attended the whole training. The trained laboratory staff is now capable of analyzing the drugs selected, according to procedures provided and validated in Switzerland.